Vipassana
Vipassana, which means to see things as they really are, is one of India's most ancient techniques of meditation. The non-sectarian technique of Vipassana was taught by the Buddha more than 2500 years ago as a universal remedy for universal ills. Students are invited to learn the basics of this technique during a residential ten-day course.
Anyone may apply for a course – Vipassana Centres welcome all! Although we all come from diverse beginnings and lead unique lives, when we come to a Vipassana course we are united by a common cause, a common purpose — to solve the mystery of human suffering. As such, Dhamma Surabhi seeks to provide a safe environment where persons of varying races, identities, experiences, and abilities can learn and become established in this technique.
Course Information
To learn Vipassana Meditation one needs to develop one's own experience during a residential ten day course. A description and timetable of a typical ten day course may be found in the Code of Discipline. If you are interested in attending a ten day course, please review the prerequisite and application sections for guidelines and instructions, then proceed to the course schedule to select a course and apply.
Dhamma Surabhi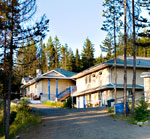 Dhamma Surabhi is one of over 120 international centers where the technique of Vipassana meditation is taught and practiced. It situated on a 56 acre forested property, located 20 minutes south of Merritt, BC, and less than a 3-hour drive from Vancouver, BC. The aroma of pine fills the air during the warmer months, reinforcing the centre's name of Dhamma Surabhi, Fragrance of Dhamma.
All facilities are segregated for men and women. Additional information is available about Dhamma Surabhi, including a detailed description of the facility, the amenities provided, and directions to get there.